Soccer Referee Cards and Wallets - Product Review
Posted by Referee Store on 28th Jan 2016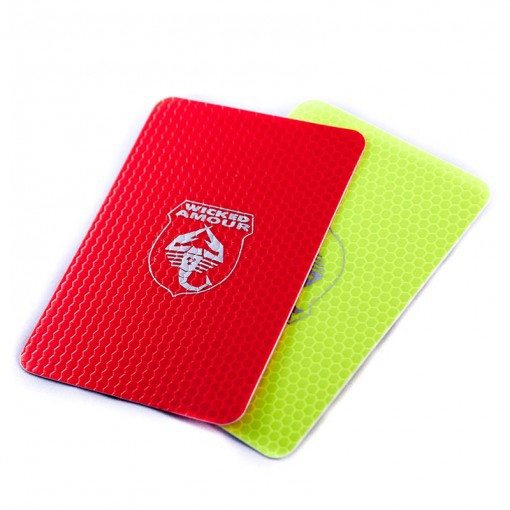 A less then well-informed person would probably think that if it came to choosing soccer referee cards or referee wallets, your decision would be fairly simple and straightforward because of seemingly limited choices in this product area. However, nothing could be farther from the truth. In fact, our Referee Store offers many different kinds of soccer referee wallets and cards. We are going to discuss some of the options and products available for purchase in our store below.
SOCCER REFEREE WALLETS
Soccer referee cards under this category come with their own wallet that holds the cards. For example, our Leather Soccer Referee Wallet comes with one yellow card and one red card that are both neatly stored inside a durable wallet made of synthetic leather. The size of the referee wallet, and the cards it holds, is ideal to fit inside your referee jersey pocket or shorts.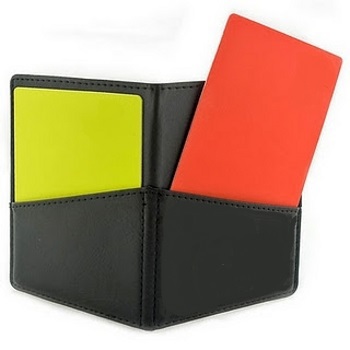 Many referee wallets, in addition to just holding the cards, are also designed to hold referee score pads (also known as referee match report pads). As an example, see our Champion Soccer Referee Data Wallet that is designed to hold the two cards and a match report pad. And then there are referee wallets that will hold your soccer referee cards, match report pads and even pen or pencils. Our b+d Soccer Referee Wallet and Card Set comes equipped with two referee cards, match report and pen/pencil. This particular referee wallet comes with a specially designed channel that securey holds a pencil.
Most of the referee wallets, like our Leather Referee Wallet or Champion Referee Data Wallet, come in a traditional book-like design foldable in the middle. But a b+d Compact Referee Wallet bucked this design. Instead, this referee wallet is has a non-foldable design with pockets, in the front and back, that hold your soccer referee cards. The card holding pockets feature strategically designed slots that allow a referee to easily remove the cards and put them back quickly. This is certainly one of the most unique designs for referee wallets currently on the market.
SOCCER REFEREE CARDS
In addition to a wide selection of soccer referee wallets, our Referee Store has equally great selection of soccer referee cards. There are two main types of soccer referee cards, including:
1. Traditional soccer referee cards
2. Write-on soccer referee cards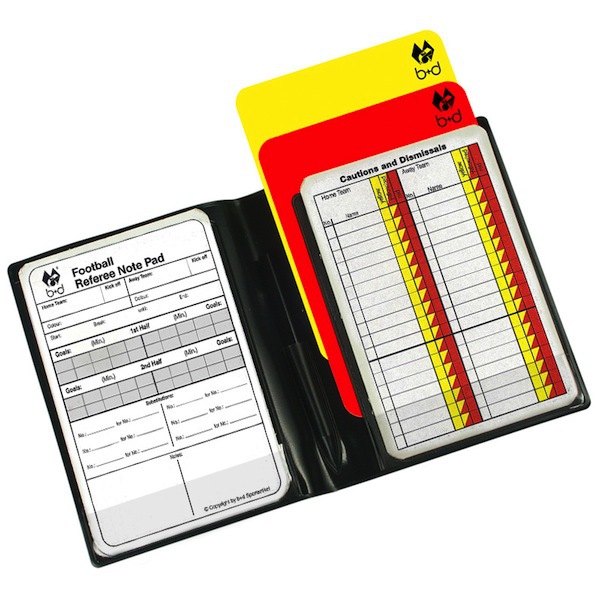 The traditional cards are not designed to to be written on which essentially means that a referee will have to utilize a match report pad or some kind of notebook to record all of the game essential information such as goals, cautions or red cards. However, we have come up with a unique solution to that problem and designed write-on stickers that you can easily affix on top of your soccer referee cards. These write-on stickers are clear and removable so after each game you can simply peel them off your referee cards and replace them with a new set of stickers as needed, leaving your cards in pristine condition and not worry about ruining them with your pen/pencil markings.
The write-on soccer referee cards, on the other hand, allow you to write on them directly because their surface was specifically designed for writing and easy removal of your markings (usually with warm water or alcohol based cleaner).
SOCCER REFEREE MATCH REPORT PADS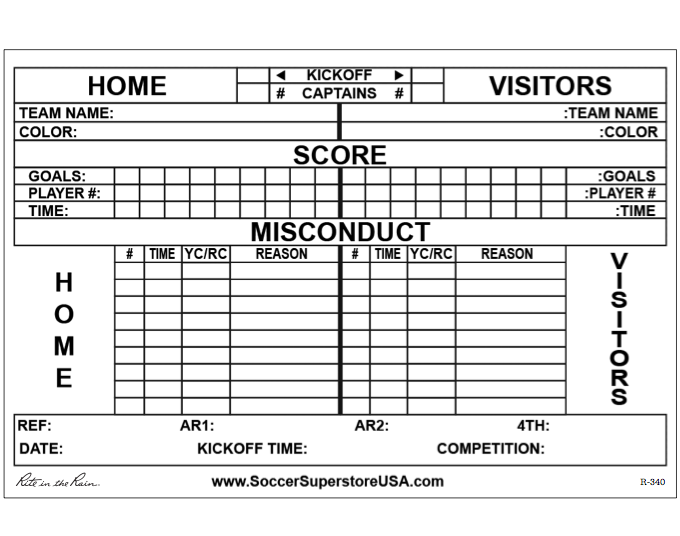 However, if you prefer as many referees do, to record and keep the game critical data on a separate piece paper, you should check out our soccer referee match report pads (also referred to as score sheets). These report pads are designed for soccer referees, allowing them to quickly and easily record all game essential information. As an example, our Rite-in-the-Rain Soccer Referee Match Report Pads are organized into neat columns and rows that are clearly labeled so that you can quickly document information about team captains, team colors, goals, cautions, expulsions and/or any other pertinent player misconduct. And these particular soccer referee score sheets really stand out from the rest as they are made of special paper that literally sheds water so you can write on them even in drenching rain.