Vokkero Soccer Referee Radio Communication Systems - Product Review
Posted by Referee Store on 23rd Jan 2016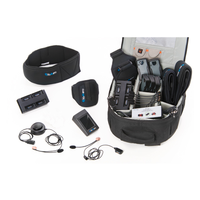 Without any doubt, Vokkero Squadra Referee Communication System is currently in the league of its own. VOKKERO® Squadra is the latest addition to the line of VOKKERO® hands-free communication systems. Having been utilized for several years in major competitions like the World Cup and the Champions League and by all the best European and national leagues, VOKKERO® has become the premier communication system for soccer referees throughout the world.
This referee communication system was specifically developed to meet requirements of professional soccer referees. Vokkero Squadra is composed of a set of mobile radio terminals with a wide selection of microphone headsets and accessories. The truly unique feature is Squadra's complete lack of external antenna. Instead, as can be seen in the pictures below, the Squadra referee radios' antennas are internally built. Having the antennas concealed inside the radios allowed Vokkero to minimize the size of the system. Thus, the Vokkero Squadra radios weight only 100g or 5.3 oz (with battery included) and measure 95 x 50 x 13mm or 3.7'' x 1.9'' x 0.6 '' inches. These small dimensions and sleek design make you almost forget that you have the radios on you while you are refereeing your game.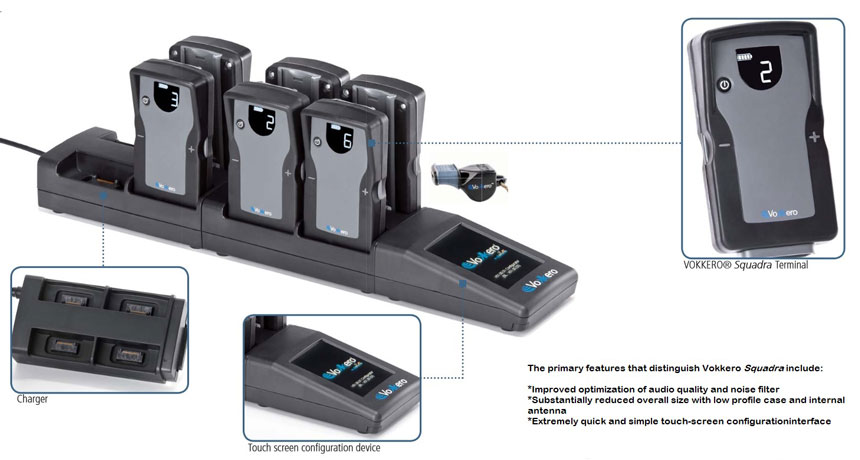 The VOKKERO® Squadra Referee Communication System does not need a fixed installation or base station, and can be used instantly. It makes it possible to set up a continuous hands-free communication between the referee and his/her assistant referees for the entire duration of a game or competition.
Some of the best characteristics of the Vokkero Squadra Soccer Referee Communication System are (i) hands-free system, (ii) patented noise filter, (iii) full duplex, (iv) ready to use, (v) digital encryption of communications, (vi) 2 to 6 users, (vii) multi-channel, (viii) no fixed installation, (ix) free frequencies and (x) 10 adjustable volume levels. In addition, the Vokkero Referee Communication System's strengths are (i) instant speaking with nothing to press, (ii) excellent audio quality in a noisy environment, (iii) simple installation, (iv) instant configuration, (v) compact, light and robust design, (vi) no risk of interference and (vii) total mobility.
The Vokkero Squadra Referee Communication System Set sold at the Referee Store comes fully equipped with all that you and your refereeing crew need and you can customize the system by choosing how many radios and headsets you need (see below a sample of the Four User Vokkero Squadra Referee Communication System):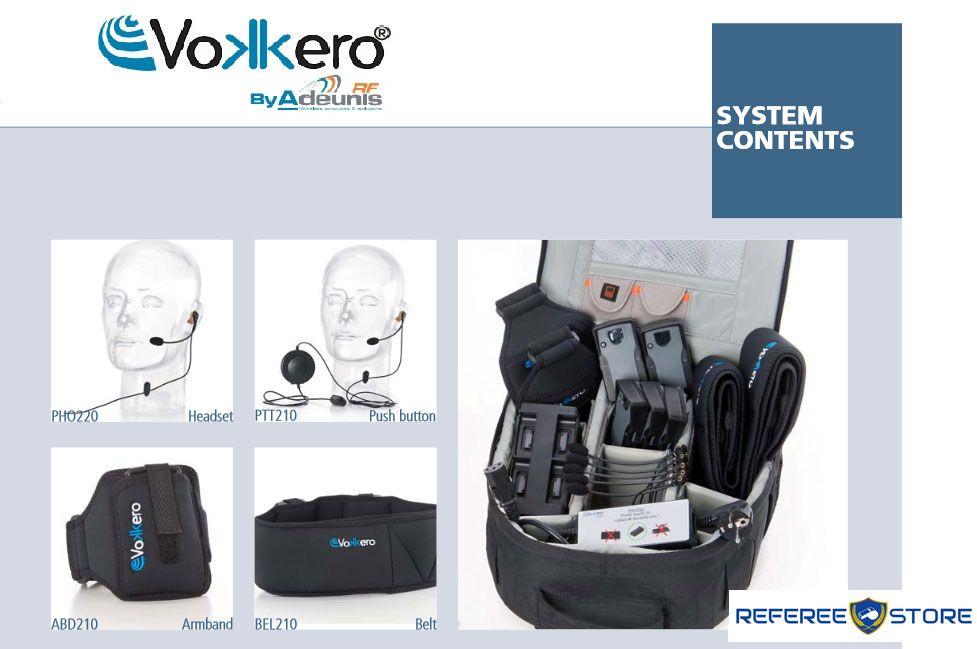 However, in addition to the high-end Vokkero Squadra Referee Communication System, Vokkero also developed two additional referee communication systems that you may purchase in our store, including Vokkero BasiX Referee Communication System and Vokkero Evo Referee Communication System.
Vokkero BasiX Referee Communication System is an entry-level communication system and allows to create a communication system with up to 3 users. The system sold at our Referee Store features 3 BasiX transceivers with FCC License Free Frequency hopping which provides simple encryption, rechargeable batteries with charger, 3 microphone headsets with built in noise filtering of whistle and wind background noise and an open mic which allows for instant duplex communication, arm bands and Vokkero Carry Bag. This system is lightweight and unobtrusive yet rugged and durable with a range of up to 600 meters.
Vokkero Evo Soccer Referee Communication System is another high-end product providing excellent audio performance and designed for use by a team of up to 6 referees. The Evo communication system features multi-channel (several systems can be used on the same site), secure communication (digital encryption permitting totally private exchanges), patented noise filter, voice recognition and elimination of all extraneous noises (shouting and other crowd noises).
Regardless of which Vokkero Referee Communication you decide to purchase in our Referee Store, you will receive a full set with all of the equipment, accessories and manuals that you need in order to start immediately using the system. What's more, given the highest standards and the latest technology used in the designing and manufacturing of the Vokkero communications systems, you are guaranteed that their performance will meet and exceed your expectations. And don't forget that you can always call us and email us, if you have any questions about any of the referee communication systems on sale in our Referee Store.